Wednesday's Fun Run – Powered by More than 400 Students, 100 Parent Volunteers and One Frogger Mascot – Raised Funds for Enrichment
Students powered the first-ever Fun Run at the new Lucretia and Joseph Brown Elementary School and raised more than $27,000 for enrichment programming on Wednesday, May 25, 2022. The Brown School PTO organized the first-ever Fun Run at the school, which serves students in grades Pre-K through third, to celebrate fitness and foster school spirit. The event united more than 400 students, 100 parent volunteers, and one frogger mascot for a high-energy race filled with high fives and lots of cheers.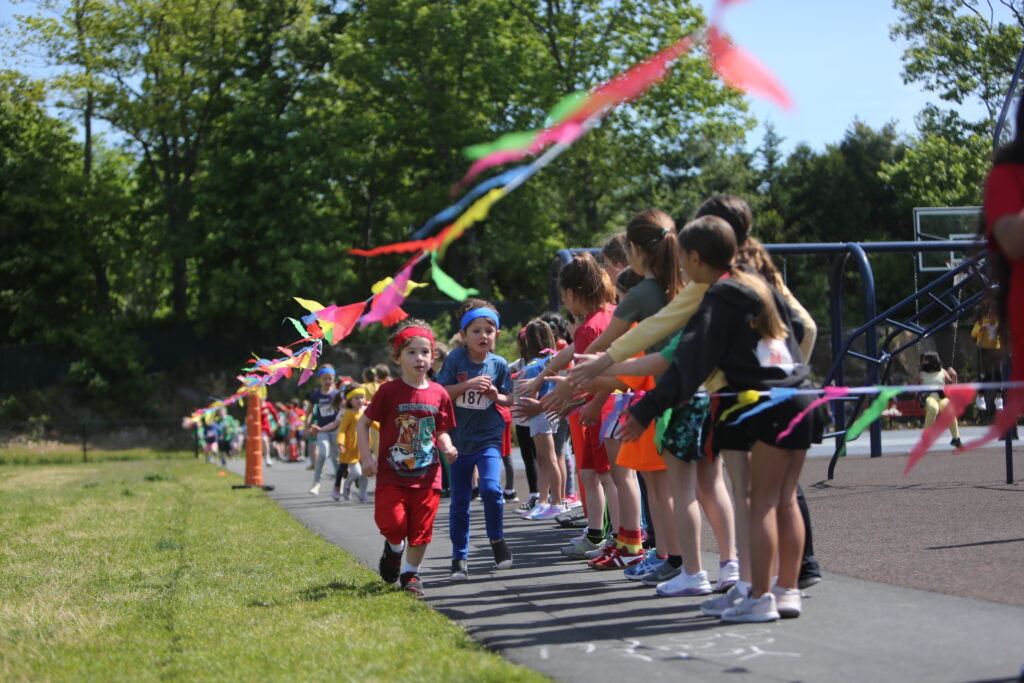 Dressed in bright colors, sweatbands and racing bibs, more than 400 students raced around the school in a flash of colors while Principal Sean Satterfield, PE teacher Danielle McGrath, Superintendent John Buckey, Hoppy the frog mascot, and teachers and parent volunteers cheered them on.
The event was sponsored by Brown School PTO, and students not only managed to meet their goal before they even laced up, in the end, they outpaced it.
"Our student runners received contributions from friends and family from 29 different states and 9 countries across the world," Principal Satterfield announced on race day.
"Our school community overwhelmed us with their support surpassing our fundraising goal and collecting more than $27,000," Brown School PTO President Abby Lewis shared. "These funds will go directly toward enriching students' experience at the Brown School."
Funds will be earmarked for enrichment programs such as one run by the Mass Audubon with traveling tidepools, Mad Science, and the popular motivational speaker Ooch. Money raised will also fund outdoor garden learning supplies, playground equipment, and PTO-sponsored family activities like the Halloween Monster Mash and End-of-Year Celebrations!
"We are grateful to the wonderful teachers, parent volunteers, and local organizations who helped make this event possible," said Lewis. Organizations that jumped in to support the 2022 Fun Run included Island Roots, Marblehead Sports Shop, Mud Puddle Toys and the YMCA of the North Shore.